Whether you're a man, woman, teenager or a senior, a full head of hair plays a major role in one's self -esteem, self -image, and even social status.
It doesn't matter what stage of life you're at; healthy hair that is strong, shiny and voluminous is a confidence and image booster. After all, who among us would not enjoy compliments and admiring gazes for our lovely, healthy stresses?
Conversely, hair loss, especially if it's severe, is nothing short of depressing no matter at what stage of life it occurs. When we begin to experience hair loss, it will affect us in many ways. We might end up becoming self-conscious, agitated and frustrated, especially when it starts to influence our image and good looks.
There are many possible causes for hair loss, and unfortunately, it's not confined to just a matter of ageing. In my case, I had to endure hair loss due to the side effects of chemotherapy and radiotherapy. ( I am a cancer survivor). Hence, I know first-hand how frustrating it can be to watch helplessly as you lose more and more hair. Fortunately for all of us, there exists a trustworthy, tried-and-tested solution to hair loss that actually works! And yes, I've tried it myself, and have fallen in love with it ever since! But before I reveal it to you, let's take a look at some of the reasons why people experience hair loss.
Stress
This is probably one of the top reasons why many people, including from the younger age group, are experiencing hair loss today, and, what makes it worse is, stress isn't that easy to identify, especially when you get used to it. In other words, you may think that you're leading a normal lifestyle, but in reality, due to the constant over-thinking, chasing of datelines, worrying about little things, and wondering about one's future. Taking into account a dozen other factors, your body is constantly in a stressed-out mode without you even realising it!
When we are stressed, large numbers of our hair follicles are pushed into a resting phase, whereby they may suddenly fall off while combing or shampooing. In some cases, stress is also responsible for people tugging at their hair, causing hair loss. Severe stress may even cause the body's immune system to attack the hair follicles, resulting in heavy hair loss.
Pregnancy
Prenatal and postnatal hair loss is nothing new, and countless women experience it. While most women experience hair loss after their pregnancy, in both cases, it is due to fluctuating hormones.
Countless new moms experience hair loss, and in most cases, it seems like a hopeless situation. It can get exasperating to find that one's hair drops off in the shower, on the pillow, on the floor, in one's hairbrush, etc. Let's admit it – no woman can tolerate the thought of losing too much hair, and not being able to do anything about it. New moms, after all, look forward to posting their photos with their babies on their social media to share with family and friends. And the look they're aiming for is ' Gorgeous new mom', and not 'Look, I'm going bald!''. Postnatal hair loss may be quite significant, and this may likely affect a new mom's self-esteem.
Exercise
Yes, exercise! Excessive exercise may cause your body to experience chronic stress, resulting in premature hair loss. Another reason is, when we work out, sweat tends to accumulate on our scalp and hair. If it's not washed properly or, if you happen to use an unsuitable product, your hair may soon become dull, dry and susceptible to shedding.
Constant use of hats (or a cap, helmet, etc)
On one hand, we have the neigh-sayers who refute this claim. But on the other hand, we can see for ourselves how people who are constantly in a cap or hat, especially a tight one, seem to be steadily losing their hair. The fact is, wearing a hat that is too tight, or one that makes your head feel too hot, will decrease the blood flow to the hair follicles, causing stress and, eventually, hair fall.
Oily scalp
It really is rare to see thick volume on oily hair, isn't it? Well, there are many issues with oily scalp, and one of them is that it attracts dirt and accelerates dandruff production on the scalp. In severe cases, the excessive sebum may clog the hair roots and result in significant hair loss.
The use of unsuitable hair care products
This is a no-brainer, but you'd be surprised at how many people out there might be enduring hair loss due to the use of products that are too harsh, or simply not suited to their hair type. In many cases, people end up with severe hair loss from picking out brands solely on their low prices instead of their quality and reputation.
So, there you have it – a handful of reasons behind hair loss. Do you feel that you too may be suffering from hair loss? Or, perhaps, you would love to add more volume and life to your own hair? One thing's for sure, and that is, no one will ever refuse the chance to have a full, healthy head of hair!
And now, remember what I said about a solution earlier? Well, it worked great not just for me, but also for loads of others as well. As for me, I've never been this excited about hair growth in my life!
Lavigato: Advanced Haircare System Through Nature And Science
If you have been trying to combat hair loss, and are at a loss at what to do, (pardon the pun!), then it's time you turn in the right direction, towards a solution that has brought amazing results to many individuals just like you (and me). Comprising two haircare products from Lavigato, a brand that has enjoyed a decade in the market providing effective solutions for hair issues, the Awakening Hair Growth Home Therapy is the ultimate answer to hair fall woes.
Backed by an international team of research and development pledged to quality and calibre, every hair care product of Lavigato is designed to address specific hair issues while respecting our environment. Hence, the brand only uses the best of high grade, natural ingredients, in line with its motto: Advanced Haircare System Through Nature And Science. At Lavigato, there is a firm belief that healthy, smooth and strong hair can only be possible through a healthy scalp.
While the Lavigato ranges comprise a series of personalized hair care products, today, we'd like to have the spotlight on the much –talked-about Awakening Hair Growth Home Therapy.
Awakening Hair Growth Home Therapy from Lavigato
If you have not been aware of this fact before, it's time you realised that you could restore your hair in the comfort of your own home, just like many others have done! All you need is your bath or shower space to initiate a home-spa environment, and the following two gems for the Lavigato Awakening Hair Growth range:
Awakening Hair Loss Prevention Shampoo
Keeping your hair and scalp clean is vital for diminishing hair loss, but your choice of shampoo cannot be neglected. Use the wrong kind of shampoo, and your fate may be sealed for even further hair loss! Switch to this specially designed SLES free and Paraben free shampoo that revitalises your dermal papilla cells by energising and nourishing them with nature's own earthly goodness, such as thyme, corn gluten, as well as an essential nutrient for healthy hair growth, namely Vitamin B5.
Awakening Hair Loss Prevention Shampoo also contains antioxidants, antibacterial and anti-ageing properties, as well as another active herb, POLYGALA, which helps in reducing over oiliness in the scalp.
Wet your hair, apply an appropriate amount and give your hair a lovely, relaxing massage for a spa-like treatment you deserve, knowing that you're on your way to a healthier, fuller head of hair with regular use! Rinse off and gently towel dry, and get ready for your next hair loss prevention step.
Awakening Hair Loss Prevention Tonic
Far from your conventional hair tonic, Lavigato's Awakening Hair Loss Prevention Tonic helps to nourish the scalp, strengthen the hair and bring about improved hair growth that you can see and feel in a short time! It is also formulated with natural thyme, corn gluten, Vitamin B5, as well as POLYGALA and antioxidants. In addition, its antibacterial and anti-ageing effects ensure that your hair grows out healthy, with an attractive appearance.
Massage an appropriate amount onto your scalp and leave it in – it's as easy as that.
With the Lavigato Awakening Hair Loss Prevention Series, the process of hair growth becomes such a joy. You know that feeling when you try a product, and it really works? That's what this is about, for you get to enjoy the changes in your hair as it grows thicker, longer and more lustrous, day after day. The important thing to remember is to enjoy the entire process, like I did, as a pampering 'me time'.
I've been using it for more than a month now, and I must say that this experience is enjoyed even more when you are relaxed and not trying to rush through the process. I find that it has given me back the glory of thick, lovely hair that just bounces with health. This is one of the few times in my life when I say that, everyone should try this if they wish to prevent hair loss, or, if they're having hair loss and would like to overcome it.
As a renowned brand, Lavigato has been making waves in the beauty industry for the past 10 years, with a number of awards and accolades to its name. Among them are the Asian Pacific Top Excellence Brand;, Best Scalp & Hair Care Product — Natural Health Readers' Choice Award; and Scalp & Hair Care Product of the Year– MFMPA.
What other users are saying!
The Awakening Hair Loss Prevention series from Lavigato has helped countless people regain not just a full head of hair, but their confidence and self-esteem as well. The following are some of the success stories with this remarkable hair care series.
Don't take my word for it, check out these individuals have to say about Lavigato Awakening:
Terence Too ( Founder of Lavigato )
I used to have a sensitive scalp and severe hair loss problem. The team and I spent years on research and development on the Lavigato scalp care series. After using it, it truly helped me, and grew back my hair. I believe it will help more people in the future to regrow their hair, to enjoy hair growth.
Felix Lee ( Hair & Scalp Expert , Art Director)
We have helped countless customers solve their hair loss and scalp problems for more than 10 years. I feel so glad listening to all customer's success stories with Lavigato. We have always emphasized, "The process of hair growth should be enjoyable."
Li Qiang ( Radio DJ)
Because of my occupation, I have to do hair styling frequently, and I used to sweat a lot; it makes my scalp red and itchy. Fortunately, I got to know about Lavigato and noticed an improvement in about three months. I particularly like one of the ingredients of the product, "Polygala", and its specially blended scent of essential oils, makes me feel relaxed when I take a bath.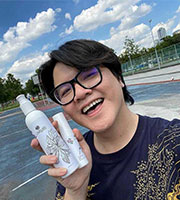 Pusparanee Manickam ( Office Facilities Manager)
After 10 years of struggling, finally I found the Lavigato product. After using it for one month, I could see the difference; lots of baby hairs started to grow!
Check out Pusparanee's Success Story here: https://youtu.be/kj7XW9Cwzt8
More Success Stories here: . Success story Link to Lavigato facebook – https://lavigato.com/lavigato-success-stories